Tenimenti Civa main sponsor of Povolions Basket from Povoletto
Tenimenti Civa's commitment as official sponsor of the Povolions basketball club in Povoletto, in the province of Udine, has been confirmed for the 2019-2020 season. On Sunday 15 September a big party was organised, dedicated to sport and friendship. Teams of youngsters played in various matches, wearing the blue and white shirt bearing the winery logo, depicting the Bellazoia hill.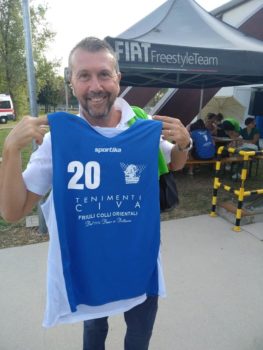 "We strongly believe in Povolions' youth basketball project," said Valerio Civa, present at the party to usher in the new sporting year. "Healthy values such as respect for others, sharing and commitment can be conveyed through young people".
In the Minibasket championships, the focus is on the aspects of play and socialization, to encourage youngsters to grow up appreciating the importance of the team spirit and the pleasure of spending time together. Thanks to the division into various age groups and the addition of new mini-basketball classes, every year the number of players grows, and with them the formation of new teams.
The young people taking part in competitive championships are organised into various teams: Seniors, Under 18s, Under 16s, Under 15s and Beginners. Some of these teams will take part in the Gold or Elite Championships at the regional level.
Last season there were 132 club members, mostly boys living in the Povoletto district born between 2001 and 2011, 57 of whom took part in competitive championships and 78 in mini basketball. The club has seven coaches, supervised by a technical manager.
"All the strategies implemented by amateur clubs like ours," Povolions stated, "are made possible thanks to the help of local institutions, sponsors and parents, who consider our commitment to be useful, healthy, and beneficial for the growth of our young people."
Maria Cristina Pugnetti
Communication and marketing manager
Società Agricola Tenimenti Civa
Via Subida, 16
Bellazoia 33040 Povoletto (Udine) – Italia
E-mail: mc.pugnetti@tenimenticiva.com
366 912 7428
E-mail: info@tenimenticiva.com
tel: 0432 177 0382