436 tonnes less CO2 in the atmosphere
Tenimenti Civa achieves concrete results by paying attention to details
It is often the minor details, good habits and concrete results of environmental sustainability that make the difference. The use of corks for its bottles is one of the decisions made by Tenimenti Civa with the environment in mind. Cork is in fact a natural material capable of retaining carbon dioxide.
Tenimenti Civa recently received the "Certificate of Cooperation" from Amorim Cork, certifying the important milestone achieved in 2019 with a 436-tonne reduction of CO2 in the atmosphere, as a result of purchasing cork stoppers for their wine bottles.
Amorim, a leading company in Italy in the production and sale of corks, and committed to environmental issues, commissioned the business consultants and auditing firms PricewaterhouseCooper and EY to carry out a study on "cork and the containment of greenhouse gases". The results confirmed the role of cork in retaining carbon dioxide.
Climate change, caused by global warming, is undoubtedly the responsibility of us all. Reducing greenhouse gas emissions is everyone's duty.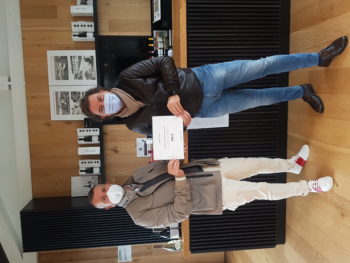 Bellazoia – 28 September 2020 – Valerio Civa receives the "CERTIFICATE OF COOPERATION " from the CEO of Amorim Cork, Carlos Veloso dos Santos