Discover good wine with us on Zoom: from theory to tasting with Tenimenti Civa, Despar, and Slow Food's Elisa De Nardo
For wine and sparkling wine lovers in particular, the appointment is for Thursday 17 September at 6.30 pm on the Zoom platform, for a lesson led by the sommelier Elisa De Nardo of Slow Food, and Valerio Civa. The topic of the discussion will be Friuli Colli Orientali, one of the important DOC winegrowing areas in Friuli Venezia Giulia, and Ribolla Gialla, a variety that has been talked about so much in recent years. The star of the tasting will be Tenimenti Civa's Ribolla Gialla Biele Zôe Extra Brut.
The initiative is part of the packed, interesting programme of ten events organized by the Despar Nordest supermarket chain entitled: "Discovering good wine: from theory to tasting".
The event with Tenimenti Civa and Ribolla Gialla is fourth in the programme. To take part in the live event, you need to register on the Despar Nordest website at https://bit.ly/3manQbv and follow the simple instructions to download Zoom, the app for the platform that will allow you to watch the tasting lesson and ask questions.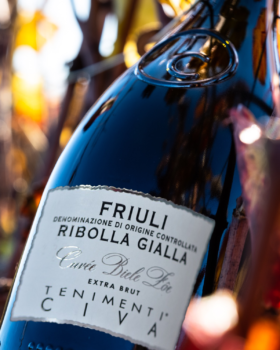 We suggest buying a bottle of Biele Zôe sparkling Ribolla Gialla – at Interspar it is on offer at the incredibly tempting price of €4.99 until 16 September 2020. It should be cooled to 10-12 °C, then on the day of the event, a little before 6.30pm, have a sparkling wine glass at the ready. For uncorking and tasting, follow the instructions of the Slow Food sommelier.
This is a unique opportunity for all those who appreciate sparkling Ribolla, but also to learn how to taste mindfully.
For information and registration:
Phone +39 388 307 4528 Mon-Fri 9:00am – 7:00pm
Email: eventi@ufficina.com