THE NEW YEAR'S EVE MENU WITH TENIMENTI CIVA WINES
How are preparations for the longest night of the year going? Are you thinking of a menu that is memorable but simple to make? We've thought of one for you! With a wine pairing for each dish.
Welcome your guests with excellent Parmigiano Reggiano dressed with balsamic vinegar, paired with sparkling Ribolla Gialla, delight them with marinated salmon and still Ribolla Gialla. Serve a first course of Pumpkin cream with prawns and thyme, paired with Sauvignon, and to finish Roast Octopus with San Daniele dry-cured ham and Pinot Grigio.
The menu was created in collaboration with the Costantini Restaurant in Collalto di Tarcento (Udine)
STARTERS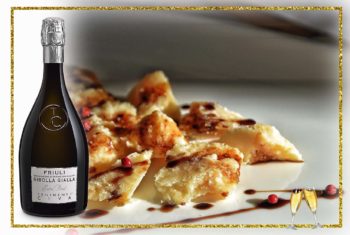 INGREDIENTS
Parmigiano Reggiano
Balsamic vinegar
Chip away flakes of Parmigiano Reggiano, arrange them on a serving dish and dress with thick balsamic vinegar.
SALMON MARINATED WITH FRESH HORSERADISH, WITH BIELE ZÔE RIBOLLA GIALLA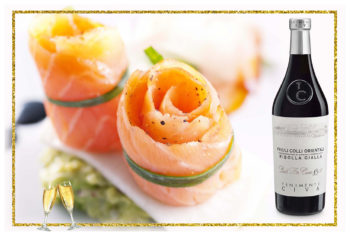 SERVES 4:
A fresh salmon weighing 1kg or four fillets
100g coarse salt
80g sugar
A fresh horseradish
Curry powder
Coriander seeds
Wild fennel sprigs
A few sprigs of rocket to garnish
Maple syrup
Remove the scales from the salmon with the help of a knife. Cut away fillets from head to tail and remove any remaining bones. Wash the fillets under running water. If you find filleting fish too complicated, you can buy fresh salmon already filleted without the skin.
Arrange the fillets in a pan and sprinkle with curry powder, coriander seeds and fennel. Mix the sugar and salt and sprinkle over the salmon, in larger amounts where it is thicker. Cover with plastic wrap and put in the refrigerator to marinate for three days.
After this time, remove the fillets from the marinade and wash them well. Then brush them with maple syrup.
Garnish each dish with a slice of salmon which you have shaped into a rose, a sprig of rocket and a very light grating of fresh horseradish.
THE WINE: pair with Ribolla Gialla Biele Zôe.
FIRST COURSE
PUMPKIN CREAM WITH PRAWNS AND THYME AND SAUVIGNON BIELE ZÔE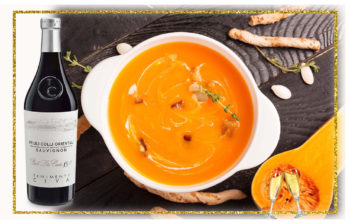 SERVES 4:
300g pumpkin cut into cubes
30g white onion
100ml single cream
20 prawns, shelled
thyme, garlic powder, parsley
salt, pepper, extra virgin olive oil
50ml brandy
200ml vegetable broth
Pumpkin seed oil
Preparation of the pumpkin cream
Brown the onion with a drizzle of olive oil, add the pumpkin cubes, salt and pepper. Once browned, add the vegetable broth and cook for about 15 minutes.
Add the cream and blend with an immersion blender.
Preparation of prawns and thyme
Cut the prawns in half – remember to remove the black vein at the top – and wash them under running water. In a non-stick pan, brown the prawns in olive oil with thyme, garlic powder, salt and pepper. Flame with the brandy, letting all the alcohol evaporate, then add a little parsley.
Pour the hot or warm pumpkin cream into a deep dish, and place 5 prawns per serving on top. Add a few drops of pumpkin seed oil.
THE WINE: pair with Sauvignon Biele Zôe.
SECOND COURSE
ROAST OCTOPUS WITH SAN DANIELE HAM AND BIELE ZÔE PINOT GRIGIO
SERVES 4:
1.5 kg octopus
200g burrata
100g aubergine cream
confit tomatoes
basil
1 carrot
1 stick of celery
100g San Daniele dry-cured ham
salt, pepper, extra virgin olive oil
a bag of caster sugar
Preparation of the octopus
Clean the octopus. Boil water in a high-sided pot with the carrot and celery. Lower in the octopus and cook for about an hour. Leave to cool in the cooking water, then cut it into pieces (ten centimetres long).
Preparation of the confit tomatoes
Make a cut into the top of the tomatoes and blanch them for two minutes; once cooled remove the peel and seeds. Cut them into segments, add olive oil, salt and pepper. Sprinkle icing sugar on top and bake the tomatoes at 90 °C for about three hours.
Brown the octopus pieces in olive oil. Then wrap each one in a slice of San Daniele ham. Arrange them on a plate and add some torn up pieces of burrata. Garnish with drops of aubergine cream and slices of confit tomato.
THE WINE: pair with Pinot grigio Biele Zôe.
HAPPY 2020!
Could it be interesting for you:
None found