Wine and Pizza: a happy marriage
Pizza is traditionally paired with beer. In fact, it is quite unusual to serve it with wine, even if wine goes well with the leavened dough and makes it more digestible. Furthermore, the many possible pizza toppings offer interesting ideas for a satisfying wine pairing.
Wine and pizza pairings: from margherita to tuna and onion
Eight DOC Friuli Colli Orientali wines from the Tenimenti Civa Biele Zoe line were tasted, paired with some of the most classic pizzas in Italian restaurants. These are the results.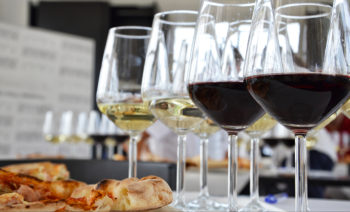 With a fragrant margherita we can drink a Ribolla Gialla Spumante. The fizz counteracts the richness of the mozzarella, while the delicate aromas of the wine go well with those of pizza. Equally successful is the pairing of sparkling Ribolla with a pizza with peppers.
If we add grilled vegetables, such as courgettes, aubergines and peppers to the mozzarella, we might try a still Ribolla Gialla or a Friulano. They both go well with the base ingredients. A Friulano is particularly gratifying also with tuna and onion pizza, as is Sauvignon, whose hints of flowers, yellow fruit and classic vegetal notes can effectively contrast the strong flavours of this pizza.
If, on the other hand, the pizza is topped with ham, a good pairing is Refosco dal Peduncolo Rosso, soft and fragrant but with enough acidity to contrast the fattiness of the dish.
Capricciosa, a mixture of artichokes, mushrooms and cooked ham, goes well with the fragrance of Schioppettino. This wine unexpectedly also makes a perfect match for pizza ai quattro formaggi and the more delicate pizza al San Daniele, with dry-cured ham. In the latter case, the wine enhances the aromas of the ham.
In addition to Schioppettino, Pinot Grigio is also an excellent ally of pizza ai quattro formaggi, and works well with the aromas of the cheeses, as long as none of them predominate.
Parmigiana made with aubergines and fresh cherry tomatoes manages to blend well with Chardonnay, but a pairing with Friulano also works well.
Maria Cristina Pugnetti
Communication and marketing manager
Società Agricola Tenimenti Civa
Via Subida, 16
Bellazoia 33040 Povoletto (Udine)
Italia
E-mail: mc.pugnetti@tenimenticiva.com
366 912 7428
E-mail: info@tenimenticiva.com
tel: 0432 177 0382
Could it be interesting for you:
None found